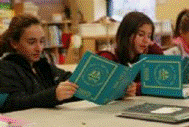 Curricular Description, Our Curricular LENSES
At Chabad Hebrew School we focus on identifying with Judaism's unique values system and its wide range of knowledge and skills. Our goal is that every student should attain a strong feeling of identity with the Jewish heritage and to develop a sense of love and pride in being Jewish. To make this a reality, our academic program is designed around five "courses" which serve as lenses through which we can impart these important goals.

WHY WE STUDY PRAYER:
In the 'busyness' of everyday life, prayer gives us the opportunity for introspection. It is a quiet time in which we retreat into our inner-selves and develop a personal relationship with our core Jewishness. These touchstone moments allow us to evaluate our spiritual growth and reaffirm our connection to our deeper self.
HOW WE STUDY PRAYER:
Beginning with the youngest class, we introduce prayers and songs - increasing both the amounts of prayers and the depth of their meanings, as the students progress. Ultimately, our goal is for our students to attain a familiarity with the words of the prayers, the mechanics that attach to those prayers (ie: when to stand, etc.), and its deeper messages.



WHY WE STUDY HEBREW READING:
There is great value to Hebrew literacy. Ideally, Hebrew reading should be more than just about learning a series of letters and vowels. Attaining the skill of reading Hebrew, accessing our common language, enables our students to identify with their common identity and imparts a sense of belonging. By studying to read Hebrew, our students can - eventually - read from original texts, and explore the roots of Jewish practice. They begin to see the Hebrew language holistically, rather than just as a splinter skill.
HOW WE STUDY HEBREW READING:
Our Kindergarten-Grade 1 children are introduced to the Hebrew alphabet through games, crafts, songs, and stories - gaining comfort with the letters. From Grades 2 onwards, our students are all inducted into the ALEPHchamp system. In this highly motivated learning environment, students are divided by skill into various color levels, with a designated reading teacher who oversees the progress of each student. When a student feels ready to move onto the next level, they simply arrange to be tested. In this way the Aleph Champ program empowers the individual, stressing self-motivation and personal goals while encouraging group work. At ceremonies, held both in the middle and at the culmination of the year, family and friends are invited to a celebration of each student's accomplishments. Skills learned in the Aleph Champ program cross over into all curricula: implemented while saying prayers, learning holiday liturgy, and in a variety of other ways.



WHY WE STUDY JEWISH HOLIDAYS:
As human beings living on Earth we all live in a natural system, a system framed by time and space. Because time seems to be in life's background, just 'framing' our lives, it's easy to lose sight of each moment's special character.
The Jewish calendar helps us with that. The cycle of holidays stimulates our sensitivity to time, and grants us the opportunity to celebrate its uniqueness. With mindful awareness of these special moments, we have the power to propel our backdrop onto life's center stage.
HOW WE STUDY THE JEWISH HOLIDAY:
We see the Jewish calendar operating as a complete unit. In this framework, the Jewish holidays spiral on one another and build on similar concepts. In sync with this spiraling pattern, this course addresses both the particular messages of each holiday and its purpose within the larger context of the Jewish year. Our holiday curriculum builds not only previously studied holidays, but on the information covered in preceding years. In this way the material grows with the students and expands their holiday knowledge, depth and skills.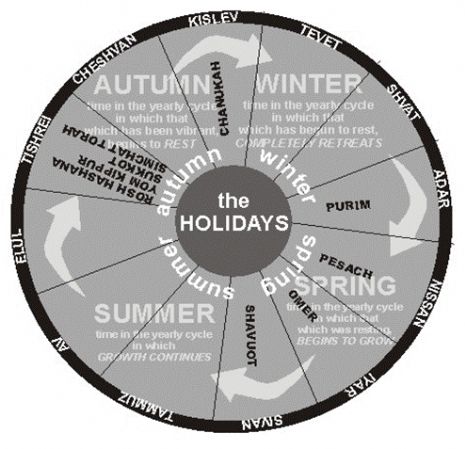 THE CORE IDEA OF EACH HOLIDAY:
High Holidays are a time for us to take a serious look at ourselves, (re)connecting with our deepest potential and launching a new beginning toward a 'Better Me'.

Sukkot we move out of the serious, contemplative mode. We feel and express the palpable joy that comes from integrating our deepest values into our everyday lives.

Simchat Torah is the time we celebrate the 'map' which G‑d gave us (the Torah), and which provides access an integrated, meaningful life.

Chanukah is a time when we connect with the idea of firm commitment to identity and values, and recognize the incredible inner strength we can unlock in ourselves through maintaining that commitment.

Purim is the time to recognize that life is more than it appears to be; looking beneath the veneer, we can find beauty and meaning.

Pesach, The Festival of Liberation, celebrates our individual freedom from our personal 'Egypts', soaring above our limitations to actualize our inner selves.

Sefirat Ha'Omer - During the Sefirah period, we focus on self-refinement period in preparation for receiving the Torah.

Shavuot - In the revolution at Sinai, Hashem presented us with a Torah, a program through which life in its entirety could be imbued with meaning.




WHY WE STUDY JEWISH HISTORY:
6,000 years ago a story began…Our Story. It is intrinsic to our identity as a people that we learn the stories of our ancestors. But stories are much more than a memorization of names and places. Stories are the threads that connect us to each other, to our past, present and future.
Sometimes it is only through the stories of others that we can best understand ourselves. At times it can be very difficult to understand the world we live in and find the power to make good choices. The study of history allows us to take a step back and distance ourselves from our present reality. In the cloak of time, we feel safe enough to listen and engage with the personalities of the past, applying the lessons gleaned from their struggles and triumphs to our own lives.
HOW WE STUDY JEWISH HISTORY:
Throughout the year your children will be learning Jewish History to give them a sense of Jewish pride and identity. Your children can expect to cover from the creation of the world until the Jewish Exodus from Egypt all through modern day jewish heroes. History will be taught in a story form as well through games projects, dramatizations and contests. Because of its immense scope, this program captures the child's own unfolding identity and discovery process. Learning this six-thousand-year-old story in such an intimate fashion allows our students to see themselves as writers of history and begin enabling the next chapter of our nation's development.

WHY WE STUDY 'MITZVOT':
Mitzvot give us the opportunity to anchor lofty concepts in daily life. By performing good deeds, we implement our knowledge in a real and meaningful way. Connecting learning with doing enables us to transform the world. Mitzvot honor our relationships with G‑d, with each other, and with the world.
HOW WE STUDY 'MITZVOT':
Instead of decontextualized learning, the Mitzvah courses focus on the implementation of the selected Mitzvot in the form of school wide projects, community events, and exciting trips. Some of the exciting ways we discover the mitzvoth our through our curriculums titled:
My Jewish home-This course is designed to discuss the mitzvot involved in creating a Jewish home, such as Mezuzah, hospitality, Kosher, honoring parents and more. Mitzvot are introduced in a large classroom 'home' and the students each decorate their own Jewish home which they will take home at the end of the year.The students grasp that the home is the center of Jewish life - home is where the soul is.
Torahpedia- This course comprises 22 bite-size lessons. TORAHpedia is a cleverly constructed curriculum, focusing on one mitzvah for each letter of the aleph-bet. Using a bright and engaging activity book, the students have fun as they learn 22 fundamental Jewish lessons. TORAHpedia's activity book places special emphasis on Mitzvot Are For Action! TORAHpedia brings real-life relevance to key Jewish concepts, demonstrating how Torahs lessons are applicable to the students' actual lives.
Lifecycles- Life is a journey that challenges our moral and religious integrity. The Jewish approach to our lifecycles enable, give us the tools, to overcome the challenges and fulfill our mission in life. During the Hebrew school year, your child will have the opportunity to 'give birth' to his/her own set of twins which they subsequently follow through various life cycle events. In many instances, we document the lessons through videography and photography.
Judaism Live- a chance for the students to take their learning out of the classroom and embark on 'real life' Judaism. Students go on trips to Jewish learning sites such as a Jewish community tour, mikvah, behind the scenes of a kosher supermarket, mezuzah scribe, Jewish museums, etc..as well as hear from experts in their area about Judaism first hand- a Mohel, a kosher wine company owner, Kosher chef ...this is a year all the students wait for!
Social action- CHS gives back!
Throughout the year, the students at chabad Hebrew school are encouraged to take their mitzvoth and bring them to action. We visit the elderly and bring the holidays to them..we run a toy drive and pack Chanukah gifts for the sick..send present to the Israeli soldiers. Opportunities are created yearly for the students to give back. See our special events calendar for these years' listings.
Community
We strongly encourage Hebrew School families to get involved and keep in touch with our school. You may very well discover that your child's Hebrew school education at the Chabad Hebrew school will add and enriching spiritual dimension to the life of your entire family. Some opportunities are, our weekly Shabbat Adventure program, Hebrew School Friday night dinners, Family education days, Social action activities, and adult education classes. We value your input and look forward to getting to know your family.